Hi folks,
I hope you're well, whether you're near or far. If you're new to my page, send me a message! I'd love to hear from you, how you found my music, and a little about yourself. If we have chatted before, send me an update on how you are. Here on Cape Breton Island, Nova Scotia, Canada, we've had several snow storms in the past few weeks. We have gotten a substantial amount of snow in a short period of time! But, this is what Cape Breton winters are like; severe weather and short amounts of daylight. I'm counting down the days until daylight savings and warmer weather!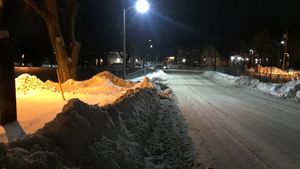 I wanted to give you a little update as to what I've been up to and what's coming up this winter:
If you haven't already heard, I'm very pleased to announce that I've be granted some money to do a new recording project. This will be my first solo recording - it's been a few years in the making, and I'm really excited about it! I've started a crowdfunding campaign, so if you'd like to contribute by purchasing a digital download or CD, or make a donation via PayPal, visit my crowdfunding campaign page. There's a lot of planning, people and money that takes place before I actually get to the recording studio, so I've started working away on that, as well as promoting my music online. Something new I've started doing is music videos. You can check out my YouTube channel at this link; please hit subscribe and the bell so you receive notifications when I post new videos.
I've also been busy teaching private music lessons as usual, but have an exciting new announcement regarding that, too! In February, I'll be moving my studio to the Convent, which is a beautiful, entirely renovated arts center located at the former Holy Angel's High School Convent in downtown Sydney. I can't wait to be a part of what is going to be a bustling arts community, and to share the experience with my students!
I've been invited, along with my very talented friend Adam Young, to perform at the Cape Breton Chorale's "A Night to Remember" Valentine Gala on February 8th. It takes place at Flavor on the Water in Sydney, NS. This was an amazing event last year, and is going to be even better this year! Check out all the event details at the Chorale's facebook event page.
Last but certainly not least, I'm honored to have been invited to perform again this year at the Every Woman's Center's International Women's Day Concert & Celebration. Full details to come, but it will be held on March 8th at the Ashby Legion in Sydney, NS. Check out the Every Women's Center's facebook page for updates.
Thanks for your support! -Adrianne